Introduction
People often use visual cues to decide whether or not to buy something. How big are those bananas, so how many should I buy of them? The same question gets asked when buying chocolate for Christmas. I was tidying up after last year's festivities, and I noticed something about one of the empty boxes. Now seems like a good time to explore it.
Judging By Its Size
This is a picture the Christmas box, with an ordinary bar of chocolate put on top of it: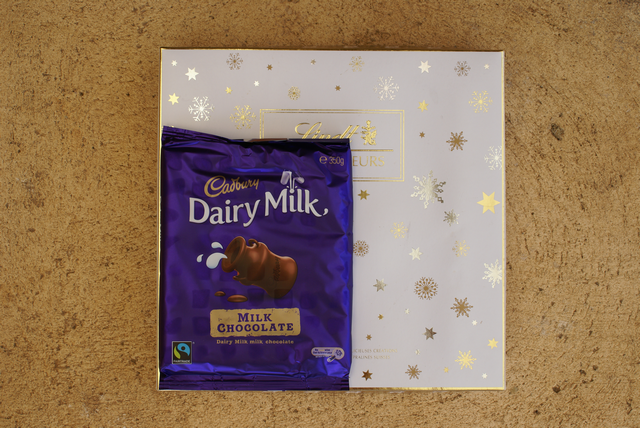 and here is the same thing seem from the edge:
From a visual perspective, you might expect the box to contain more, possibly a lot more, than is in the simple wrapper. You would be mistaken. The simple wrapper contains 350g. The box contained only 320g. I leave it you estimate the ratios of width, height and depth from these pictures.
A look at the internal carrier was also revealing:
The individual chocolates are held in the widened "bases" as they appear in this picture. Those things that look like upside-down plastic beakers raise the individual chocolates from the bottom of the box. (The carrier is shown upside-down in this picture.) A comparison of the simply wrapped chocolate with all that empty volume is revealing.
Next Time You Go Shopping …
Next time I go shopping for Christmas, I will be taking a very hard look at the weights printed on the boxes and wrappers!